Rating
Creating a sales funnel from scratch is a time-consuming task particularly if the funnels consist of multiple pages.
What if I tell you, ClickFunnels has done all the hard work for you. And with just a simple click, you can have these premade funnels templates (high converting!) loaded inside your ClickFunnels account and start using it.
What you need to do is to edit the funnels templates and drive traffic to it.
Isn't this cool for you?
In this blog post, I am going to tell you where and how you can get ClickFunnels premade funnels templates.
Where To Get Dozens Of ClickFunnels Premade Funnels
The only place to get dozens of ClickFunnels premade funnels is ClickFunnels Marketplace. It is the largest marketplace created by the ClickFunnels team and Russell Brunson.
The ClickFunnels marketplace has a compilation of all types of premade funnels templates such as opt-in funnels, webinar funnels, membership sites funnel, ebook funnel, landing pages, and product launch funnel.
To go to ClickFunnels Marketplace, use this link https://marketplace.clickfunnels.com/
ClickFunnels Marketplace
If you have a ClickFunnels account, the process of getting the premade templates from the ClickFunnels marketplace and using the funnels is easy.
ClickFunnels users can benefit from the marketplace by having the privilege to shop for templates and they can download the funnels into their ClickFunnels account and use it.
What Is ClickFunnels Premade Funnels
ClickFunnels premade funnels are funnels template that pre-built by the sales funnel experts.
These funnels contain a single or more than one funnel page depend on the nature of the funnels and the complexity.
Some of the premade funnels have been proven to work because it has been tested by the ClickFunnels team and the owner of the sales funnel. Therefore it is safe and risk-free to use these funnels in your online business.
Types of Premade Funnels In ClickFunnels Marketplace
The types of funnels in the marketplace are broken down into template types and categories.
Premade Funnel Templates
There are two types of funnel templates, the first is whole funnels and the second is Single Page Template.
Choose Whole Funnels, if you want to have the funnels with all the pages. If already have your own funnel, and you are looking for a funnel page to complete your entire funnels, the Single Page Template is what you need.
Funnel Categories
Next, you need to decide on the type of funnels you need. There are 14 types of funnel to choose from:
Optin Funnels

Membership Funnel

Other Webinar Replays

Misc Webinar Funnels

Product Launch Funnel

Landing Pages

Thank You Page

Squeeze Pages

Sales Pages

Order Form Pages

Order Confirmation Pages

Membership Access Pages

Membership Area Pages

Auto Webinar Registration
How To Download Premade Funnels Into ClickFunnels Account
If you already have a ClickFunnels account, downloading the premade funnel template from the marketplace into your account is just a few simple steps.
Let's say you have chosen the product launch funnel from the ClickFunnels Marketplace:
Step#1- Login into your ClickFunnels Account
To have the premade funnels loaded into your ClickFunnels account, the first thing you want to do is log in to your ClickFunnels account.
Step#2- Download The Premade Funnel Template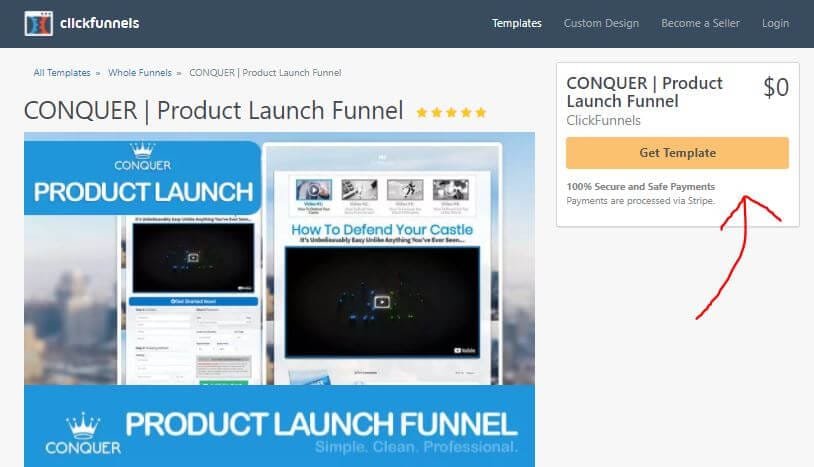 To begin the download, simply click on "Get Template". The download process will start and it will bring you to your ClickFunnels dashboard. It takes about 1 to 2 minutes for the download to complete.
Step#3- Customize the premade funnels 
The premade funnel template was built incorrect order and sequence, therefore you do not need to do the major modification.
However, you need to edit things like the company logo, color scheme, headlines, picture, a sales video, call-to-action button, or if you have a pre-written sales copy you can include that in the funnel.
Make sure you save the changes you have made, and to ensure everything is in order do preview of the funnel before it goes live.
ClickFunnels Premade Funnels From Scratch
And for some reason, the premade funnels templates do not meet your business requirements you have the choice to create the funnels from zero.
If you choose to build the funnels on your own, I highly recommend checking out the One Funnel Away Challenge. It is the most effective ClickFunnels coaching program and yet it is the cheapest among all the coaching programs.
Build Premade Funnels With One Funnel Away Challenge
One Funnel Away Challenge is a training program that takes you through step by step to help you create and launch your first funnel totally from scratch in 30 days.
In the training, you will lead by the world-class Trainers Russell Brunson and Coaches Stephen Larsen and Julie Stoian. The One Funnel Away Challenge is designed to help you Customize and IMPLEMENT your plan in just 30 days.
Find Out More About The Training Here.
Russell Brunson will train you with NEW videos created and structured for this specific challenge. Russell will lay the solid groundwork, so you can master the CORE fundamentals and strategy behind your customized 30-day plan.
It's important to not just do the daily tasks but to understand the "bigger picture" of what you're doing over the 30 days, and why.
Julie Stoian will help walk you through the process and the "how-to" of turning your abstract customized 30-day plan into an actual funnel that's built, and up and running. She's a master at transforming business ideas from the initial "vision" phase to reality.
Stephen Larsen will coach you daily on LIVE group calls! This is where you can get your questions answered if you need extra help on completing your daily tasks.
Consider Stephen your supportive (but no-excuses) accountability partner! He's not afraid to "hold your feet to the fire" and make you stay accountable for getting your tasks done.
ClickFunnels Premade Funnels Pricing
The premade funnels template in the ClickFunnels Marketplace has a free and paid version.
The paid version is a premium type of template that either created by a two comma club winner or a ClickFunnels certified sales funnel builder. The price of the premium funnel is starting from $97 up to $297.
The free version is equally good as the premium, and it is a good kickstart and you can perfect it at a later stage by adding more pages.
Conclusion
I hope you enjoy reading my post on where to get dozens of ClickFunnels premade funnels. And I hope it gives you some insight into choosing the right ClickFunnels premade funnels template.
ClickFunnels make the process of building sales funnel easier than any platform out there.
It is easy to use and has all tools, functions, and features under one roof that ready for you to sell and market your products and services online.
Simply worth the money. And most significantly it has reliable and secure software that is free from bugs and errors.
And the truth is that many ClickFunnels users have used and stayed with ClickFunnels for years because of its evolving software, continued support, and also new functions rolling out regularly.