Rating
ClickFunnels Two Comma Club Live Conference
Is ClickFunnels Two Comma Club Live Conference is an ideal conference for you?
If you are an online entrepreneur looking for advanced and also practical methods to expand your business then in this
case of the conference is going to benefit you.
The Two Comma Club LIVE is a virtual conference that comprises a group of individuals that have successfully made $1million in Sales utilizing ClickFunnels software.
The goal of the conference focuses on boosting aiming online entrepreneurs by sharing very carefully examined and also proven online marketing techniques to ensure their internet business success.
The Comma Club LIVE conference is a high momentum conference, backed by numerous successful entrepreneurs worldwide. It consists of different areas headed by different speakers who are certified to educate and share insights on the topic such as internet marketing and entrepreneurship.
What Is Two Comma Club Live Conference
The Two Comma Club Live Conference is a 3-day captivating conference that will be streaming from the ClickFunnels Office located in Boise, Idaho.
The conference is going to live stream presentations from the most popular speakers from the ClickFunnels Funnel Hacking Live (FHL) event that had the largest impact on over 5,000 attendees.
These presentations are carefully picked by Russell Brunson and the ClickFunnels Team
What Is Two Comma Club
The Two Comma Club is an award club for the member who has made $1 million dollars in sales using the powerful sales funnel builder software, ClickFunnels.
To apply for a Two Comma Club (2CC) Award you need to submit the application by visiting this website https://twocommaclub.com/.
Apart from the 2CC Award, there a few other awards for ClickFunnels users who generated $10 million dollars in sales or more.
Two Comma Club 2CC-X-Award
The 2CC-X-award is for members who each earned over eight figures (that's $10 million dollars!) inside their ClickFunnels funnel.
Two Comma Club 2CC-C Award
The Two Comma "c" award is made up of four milestones along the entrepreneurial journey:
$25 million
$50 million
$75 million
and $100 million
Each time a Clickfunnels user reaches one of these four milestones inside their Clickfunnels Funnel,
the corresponding segment of their "c" award will be filled in.
2 Heart Award
ClickFunnels has created the 2 heart award to celebrate funnel hackers who have donated over $1 million of their funnel-based income to charity.
Who Is The Two Comma Club LIVE Conference For
The Two Comma Club LIVE conference is for people who feel like their business is a calling and they want to change the world.
It is for those who know they need to grow their business online, impact their customers' lives and provide for their loved ones.
The ones who get excited to learn about marketing, personal development, and modeling what success looks like.
​Those who want to win a Two Comma Club Award.
If that sounds like you, then welcome to the Two Comma Club Live conference was created just for you.
Two Comma Club Live Conference Pricing
ClickFunnels has always over-delivered by prioritizing value first. And for this time, ClickFunnels are giving everyone a chance to take part in this live conference for FREE!
At the end of the conference, you will have an option to pay if the content is worth it.
Isn't it a cool deal?
When you provide credit card details in the billing form, you will be allowed to attend the live conference without being billed.
They have designed a payment plan that allows you to access the conference without incurring any costs upfront.
The live conference will be free, and you need to pay $197 after the conference only if you like the information. If not, you'll not need to pay.
You will also have the option to pay $147 before the conference which you will have $50 saving.
Achieve Two Comma Club Award In 30days
One Funnel Away Challenge is a training program created by ClickFunnels where you are provided a step by step coaching to help you create and launch your first Sales Funnel totally from scratch in JUST 30 days.
In the training, you will be led by the world-class Trainers Russell Brunson and Coaches Stephen Larsen and Julie Stoian. The Funnel Challenge is designed to help you Customize and IMPLEMENT your plan in just 30 days.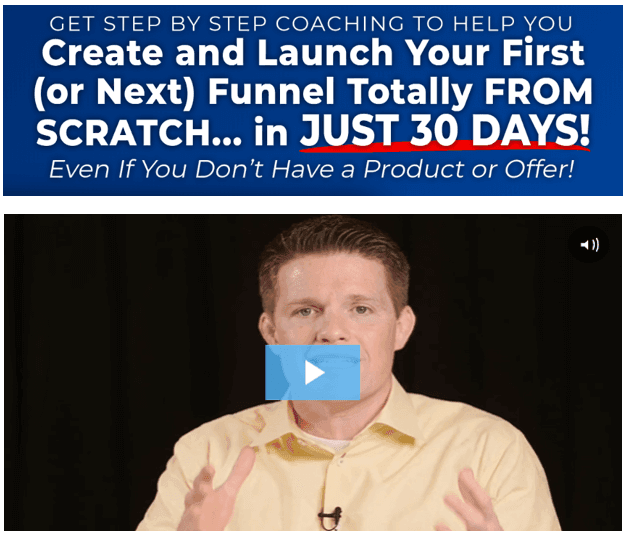 Click Here To See What Is Inside One Funnel Away Challenge
Russell Brunson will train you with NEW videos created and structured for this specific challenge. He'll lay the solid groundwork, so you can master the CORE fundamentals and strategy behind your customized 30-day plan. It's important to not just do the daily tasks but to understand the "bigger picture" of what you're doing over the 30 days, and why.
Julie Stoian will help walk you through the process and the "how-to" of turning your abstract customized 30-day plan into an actual funnel that's built, and up and running. She's a master at transforming business ideas from the initial "vision" phase to reality.
Stephen Larsen will coach you daily on LIVE group calls! This is where you can get your questions answered if you need extra help on completing your daily tasks.
Consider Stephen your supportive (but no-excuses) accountability partner! He's not afraid to "hold your feet to the fire" and make you stay accountable for getting your tasks DONE!
What Is ClickFunnels
The best way to find what exactly is ClickFunnels is to understand what sales funnel is and how it can help you quickly market and sell your products and services online.
A sales funnel is a directed sales path that potential customer experiences in your sales process.
Sales funnel will direct possible consumers through your sales procedures that produced with the function to cause a conversion or sales.
Unlike a salesperson, a sales funnel operates 24/7 as well as assists to produce conversion or sales while you are away. It's like a systematic sales process operates without having you exist to attend the visitors.
It has the primary objective which is to assist companies to turn visitors into leads, and after that to paying clients.
Final ClickFunnels Two Comma Club Live Conference Verdict
Thank you for your time reading my post on ClickFunnels Two Comma Club Live Conference. I hope it helps by clearing the doubts you have about the live conference.
With the information and resources being shared at the conference to make people be successful in their online businesses, it calls for a significant quantity of self-drive, inspiration, and also desire to be an outstanding individual to be a participant of this event.
Two Comma Club live conference is less costly than ever before. By are going live virtually, which has substantially lowered the expense of getting and also taking advantage of the information being shared at your home's convenience.
Two Comma Club live conference consists of a group of specialists from numerous areas. The speakers are well prepared and are well versed in their areas of competence.
If you are an enthusiastic person with a severe desire for success in online business, then the Two Comma Club live conference is where you should be.
The live event enables you to delight in as well as gain from exceptional content at your home's comfort with your loved ones free of charge.